GCSEL Blog
Recently, the Mississippi Department of Education (MDE) announced a significant achievement gap between subgroups of students in schools across the state. The gaps followed racial and income lines. Statewide, African-American students are running 29 percentage points behind white students in academic proficiency and poor students lagging richer ones by 27 points.
These figures confirm the need for more funding for early childhood education. Research findings have been published for years that clearly show poverty negatively impacts student achievement and even the formation of the brain, with children in generational poverty having less gray matter than those not living in low income settings.  A report from the Southern Educational Foundation quotes data released from the National Center for Education Statistics on children in public schools in 2013 revealing that Mississippi led the nation with the highest rate of ­71 percent. Almost three out of every four public school children in Mississippi were low-income, whereas the national average was 51 percent.
Given the percentage of low-income children in our schools, a point could be made that our public schools have done amazing work. The real gap is in state funding for high-quality early childhood education programs for low-income children. With only a $4 million dollar appropriation for state funded pre-K, the investment is negligible considering that it supports only 79 classrooms.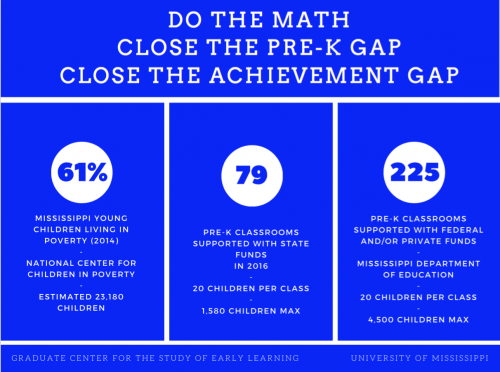 According to MDE there are 225 classrooms in public schools funded through other sources such as Title I, tuition, federal funds for children with special needs, private donations, Head Start blended programs or a combination of some of the funding steams listed. As of 2016, these 300 total classrooms and any additional ones housed in a public school or participating in a state funded collaborative, will be held to a standard of accountability which meets national standards in how funds are spent and the quality of the instruction provided.
According to the National Center for Children in Poverty, 61 percent of Mississippi's young children in 2014 were living in poverty. With an average of 38,000 4-year-olds in the state during any given year, 300 pre-kindergarten classrooms housed in public schools serving a maximum of 20 children per classroom does not provide the obvious need for high-quality program options for low income families.
According to The Head Start Bureau, in 2014 Head Start in Mississippi served 26,276 3- and 4-year old children. Head Start does require programs meet standards addressing quality programming for continued funding, but the numbers eligible for enrollment and the funds available for the federal approbation leave a gap in opportunity for many children.
When 61 percent of 38,000 4-year-old children is computed, the figure is 23,180 children, who, on average, need to receive at least one year of a high-quality early childhood education to reduce their lack of kindergarten readiness skills as measured by a state kindergarten readiness assessment.
Our state has avoided the fact that for our achievement gap to close, we must address the obvious and significantly increase funding for high-quality early childhood programs. If research is to be believed, within three years, the gaps in achievement will decrease significantly among those who participate in the high quality programs. How can you ignore that?
By Dr. Cathy Grace